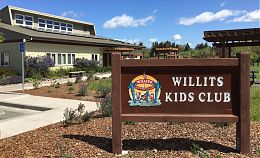 Brookside
Brookside Kids Club after school program offers children in grades K-2 a safe, supervised place to be in the after school hours. Brookside Elementary School students ride the school bus to the Willits Kids Club Youth Center on Blosser Lane. The first order of business after school is a healthy snack! They have free play, structured activities which include sports, games, art, crafts, building projects and service projects. Monday through Friday they are given homework help and have a reading time. The students have a free choice day on Fridays where many activities are offered including face painting, cooking, gardening, drama, Zumba and much more.
more/less
Blosser
Our Blosser Lane Kids Club after school program offers youth guidance and enrichment for children in grades 3 through 5. Active play, creative play, service, leadership, cooking, gardening and games are just a few of the things going on. Monday through Thursday the students receive help with homework and academic support, such as multiplication tables mastery. On Tuesdays, the kids have clubs. Club themes have included sewing, gardening, meals, outdoor games, Friendship Club, computers, Pokemon Club, dance and drama. The students often suggest their own topics for clubs. On "Fun Fridays" the students move freely from a selection of different engaging activities.
more/less
Baechtel
The Baechtel Grove Kids Club after school program for 6th through 8th graders offers a safe, supervised environment for hanging out after school, getting help with homework, and the opportunity to make and create things. The middle school program works with school sports teams and after school activities. Kids check in at Kids Club, get a snack, do some homework and then go to their sports practice. Leadership and service opportunities are offered.
more/less